Certificate of Use Inspections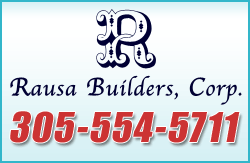 Miami-Dade Ordinance No. 08-133, passed on December 2, 2008 requires the holder of a certificate of title on a foreclosed property to obtain a Certificate of Use from the Zoning Department. To schedule an inspection call 305-554-5711 or contact us by completing our online form.
To acquire the Certificate of Use, the property title holder needs to have the property inspected by a licensed Architect & Engineer, who will then submit a Disclosure of Findings Report to Miami-Dade County.
Rausa Builders, Corp. has a dedicated team of licensed Architects & Engineers as well as a Processing & Filing Department ready to handle the Miami-Dade County Ordinance # 08-133 Certificate of Use Inspections on foreclosed properties for their title holders in an efficient & timely manner.
Obtain certified as-built or new survey
Complete inspection as required with architect or engineer certification
Submit report to client for approval
Re-Inspection of property if needed
Submit report to Miami Dade County for review
Track review board progress
Record approved document at Miami Dade County courthouse
Obtain release from Building Dept.
Purchase certificate and deliver with certified report to client
Pay all required Miami-Dade County fees associated with recording and obtaining the Certificate of Use
Click Here to have our team work for you!